10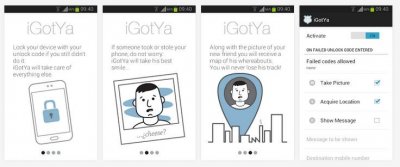 ★★★★★ - "A must have for everybody"
★★★★★ - "Recover your phone easily if stolen"
★★★★★ - "I saw it on the news and I couldn't believe it, they had the thief picture!"
★★★★★ - "So easy to set up, just activate it and go!"
Originally developed for iPhone now you can enjoy iGotYa on your Android phone too!
Every time that someone try to unlock your device and enter a wrong code you will receive the thief's photo and location of your thief on your mail immediately. You can also force your device to phone you if the thief try to unlock it unsuccessfully for a few times.
Your phone will be safe and protected against thief thanks to iGotYa. You just need to enter your mail address and you will start receiving alerts in case your phone or tablet is being use without authorization.
iGotYa is the easier anti thief app to configure, just activate it and type your mail and it's done. Forget about servers, ports or protocols. Activate i GotYa and your phone will be safe!